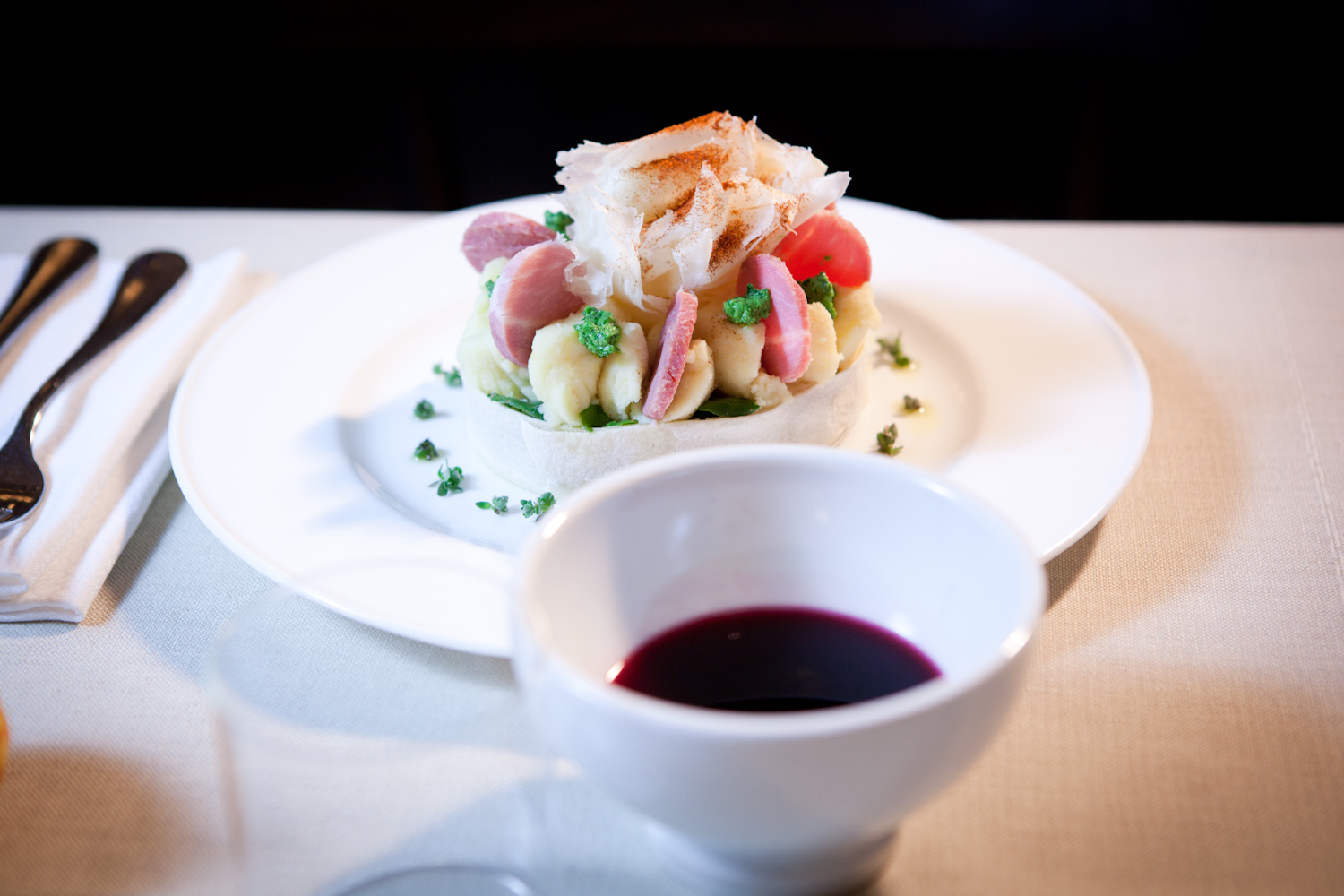 In Emilia Romagna, where chef Valter Giletti d'Alanno was born, "le scodelle" (bowls) are still using in the inns and taverns to taste the new wine, in happy company.
Push the door and you will discover the world of the rich and tasty Emilian cuisine: you will have the best of traditional cured meats, like Prosciutto di Parma or Culatello di Zibello, delicious fresh handmade pasta, you will enjoy the king of Italian cheeses – Parmigiano Reggiano, fragrant desserts and everything makes famous the Emilia Romagna taste in the world.
So if you want to know or rediscover scents and flavors of the Emilian cuisine – and not only that – with a touch of novelty and lightness, you will be very welcome.
En Emilie Romagne, patrie du chef Valter Giletti de Alanno, "le scodelle" (les bols) s'utilisent encore dans les auberges et tavernes pour déguster le vin nouveau.
Poussez la porte et nous vous souhaiterons la bienvenue dans le monde de la cuisine Emilienne, riche et savoureuse: vous dégusterez les classiques et les gourmandises moins connues, Prosciutto di Parma et Culatello, délicieuses fraîches pâtes maison. Vous apprécierez le roi des fromages italiens – le Parmigiano Reggiano – sous ses diverses formes et ses nuances, les desserts gourmands et tous ceux qui rend célèbre la cuisine de l'Emilia Romagna dans le monde.
Donc, si vous voulez connaitre ou redécouvrir les parfums et les saveurs de la cuisine Emilienne – et non seulement cela – avec une touche de nouveauté et de légèreté, vous serez très, très bien accueillis.
Culatello
Culatello is a refined variety of prosciutto, made from heavier pigs, cut to a fraction of the normal prosciutto and aged, and may be cured with wine.
Il s'agit d'un jambon doux et délicat obtenu à partirde la cuisse de porc. Désossé et taillé il a la forme d'une grosse poire.
Mortadella
Large Italian sausage or cold cut, made of finely hashed or ground heat-cured pork, which incorporates small cubes of pork fat (principally the hard fat from the neck of the pig).
Il s'agit d'une espèce de gros saucisson fabriqué de nos jours principalement avec du porc. Cette spécialité italienne se sert coupée en tranches très fines.
Pancetta
Italian pancetta is a bacon lean, composed entirely of pork, without rind, rolled in a casing.
Poitrine de porc salée, poivrée et séchée pendant environ trois mois.
Prosciutto di Parma
Parma ham is a dry-cured ham that is usually thinly sliced and served uncooked. By law Prosciutto di Parma can only be made in the hills around Parma; the unique conditions of the Parma region have made it possible to produce the highest quality hams.
All Parma Ham authorized producers must be located within the geographical boundaries of the Parma production area, 5 km south of the via Emilia, limited to the east by the river Enza and on the west by the river Stirone, and up to an altitude of 900 m. Hams produced in the same region but not meeting the requirements
set by the Consorzio cannot be branded with the official certification mark – the Parma Crown – and are not authorized to bear the name Parma, even if they originate from the Parma area.
Le Jambon de Parme est un jambon sec d'Appellation d'Origine Protégée, exclusivement élaboré dans le sud de la province de Parme; 5 kms au sud de l'antique via Emilia, entre les rivières Enza et Stirone, dans
les collines – les Apennins – à 900 mètres d'altitude maximum. Ce terroir est très favorable à la maturation longue et naturelle; la qualité de l'air des Apennins venu de méditerranée, les amplitudes thermiques et les taux d'humidité jouent un rôle essentiel. Seuls les jambons élaborés sur ce terroir suivant le cahier des charges draconien du Consortium de tutelle, peuvent acquérir la typicité nécessaire pour recevoirl'Appellation «Jambon de Parme».